Being a family-owned and operated business, we're able to offer you that personal touch you've been looking for. Our goal is to always make all of our customers happy and we believe in treating each customer like a part of our family.Whether you are pre-planning or have an immediate need, let Olson Monuments & Memorials help you tell your story.
We look forward to hearing from you soon!.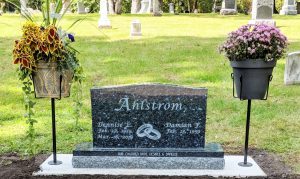 Monuments
We offer companion monuments in almost any shape, size or configuration. These allow two people to  share one monument.
Monuments
Celebrate the life of a loved one with a personalized monument form Olson Monuments.
Stone Benches
Decorative and functional benches are great for garden areas or anywhere that offers space for quiet reflection.
Garden Cremation Plaques
We can create a wide variety of plaques. Contact us to learn more about the various styles and options available.
Pet Memorials
Pets are an important part of life and Olson Monuments can help you memorialize your pet. We offer traditional monuments, and smaller monuments for little pets.
Personalized Yard Boulders
An amazing and creative way to memorialize a loved one. We can use almost any boulder in a variety of stones and styles.
Monument Repairs
The elements can take a toll on all monuments. We can restore and repair monuments that are no longer looking their best. We offer general repair, sand blasting, and cleaning.
Monument Repairs
Family plots and pre-planned monuments are sometimes placed with the final date left blank. Olson Monuments can add the final date to an existing monument.
Monument Repairs
When you want that something special look to custom carved monuments.